7 Smartest Ways to Spend Your Money as a Homeowner
How can you add value to your home most efficiently? Here are our cost-effective suggestions
1. Exterior
This should be your first port of call when looking to add value to your home. Assess the exterior – the first thing a prospective buyer lays their eyes on when viewing your home — and look for ways you can improve. The windows, the roof, the front door, everything. These are things that you can spend relatively little on replacing or improving and as a result add a huge amount of value to your house. This isn't just a sensible investment; it's an essential one.

2. Garden
Don't neglect your garden as well as your house, especially if you have a front garden that your prospective buyers will be walking through before they even cross the front threshold. You don't need to over-complicate matters, but investing time and a little cash into making your garden well-groomed and stylish can pay dividends to your home's value.
3. Floors
It doesn't need to be about extending or adding bits on. Replacing your musty carpets or faded linoleum with beautiful, polished hardwood can be one of the most cost-effective ways to transform your house and make it feel so much more high-end and glamorous. The work is minimal, and the returns can be amazing. What more could you ask for?

4. Conservatory
A conservatory not only adds extra room to your house, it can also create a beautiful summery space to spend time and make a difference to how your house looks from the outside. Conservatories have a reputation for reliable return on investment — if you want a safe bet, this is a great place to start.
5. Loft
In many houses lofts are simply dead space — be honest, could yours be used more effectively? If so, it's time to throw away those mouldering cardboard boxes and make your loft space into something that's working for you. A new games room? A cosy, tucked away bedroom? It can even stay as a room for storage if you have too much stuff to get rid of, but you can still make it into an attractive space that's adding value to your home, not taking it away. As a nice extra bonus, if you don't extend the roof, you're guaranteed not to need planning permission.

6. Kitchen
Studies have shown that one of the first rooms prospective buyers of a house pay attention to is the kitchen, wanting it to be just how they like it. So if you can make yours fully fitted and ready for prospective buyers who don't want the hassle of making theirs from scratch, you can really bump up the value of your property. Here is where it's especially important to invest properly — put the money in, and you and your buyers will be thrilled with the results.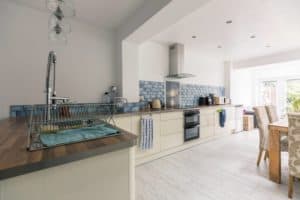 7. Extension
And finally, if there's one surefire way of making your home start earning more for you, it's by extending your property. Relaxed planning regulations from 2016 mean it's never been easier to start an ambitious extension project; if you want you can even expand over multiple floors, whether you want to expand your existing rooms or add brand new ones. Nervous? There's no need to be — check out our blog on the 12 Myths About Property Extensions to put your fears to rest.
Want to give it a try? Get in touch today.